https://github.com/xiaoyaocode163/VisualFreeBasic
http://www.yfvb.com/soft-48.htm
(version 5.5.3,update:2021-2-23)
VisualFreeBasic5 is free forever, unlimited, no ads, no rogues, no implants, no pollution to the system, environmental protection, no installation, no deployment environment, unzip and use. Welcome to distribute for free, forward the download link or dump download
===============
welcome to join:QQ GROUP:78458582
you can download QQ APP.
ENGLISH VER APP,ANDROID ,IOS APP STORE
https://apps.apple.com/cn/app/id710380093
FOR PC:
https://dldir1.qq.com/qqfile/QQIntl/QQi_PC/QQIntl2.11.exe
The author and inventor of this IDE have been collating opinions in the group and releasing new versions of the software.
There are also many fans of this programming language who are "instant communication" programming problems.
It took hundreds of thousands of programming engineers at Microsoft to make a visual IDE development tool for 10 years.
Freebasic really needs an efficient and convenient visual development tool IDE.
FreeBasic—a cross-platform that almost scared me to pee, strange and messy to the desperate Basic language
http://www.office-cn.net/home.php?mod=s ... g&id=15213
On August 28, 1980, Gates signed a contract with IBM to agree to develop an operating system for IBM's PC. He then purchased an operating system called QDOS at a price of $ 50,000. After a slight improvement, he renamed the product as DOS and then licensed it to IBM.
In April 1991, Microsoft introduced the Visual Basic 1.0 Windows version. This advancement in connecting programming languages and user interfaces was called Tripod (sometimes called Ruby). The original design was done by Alan Cooper . At the time, it was the first "visual" programming software.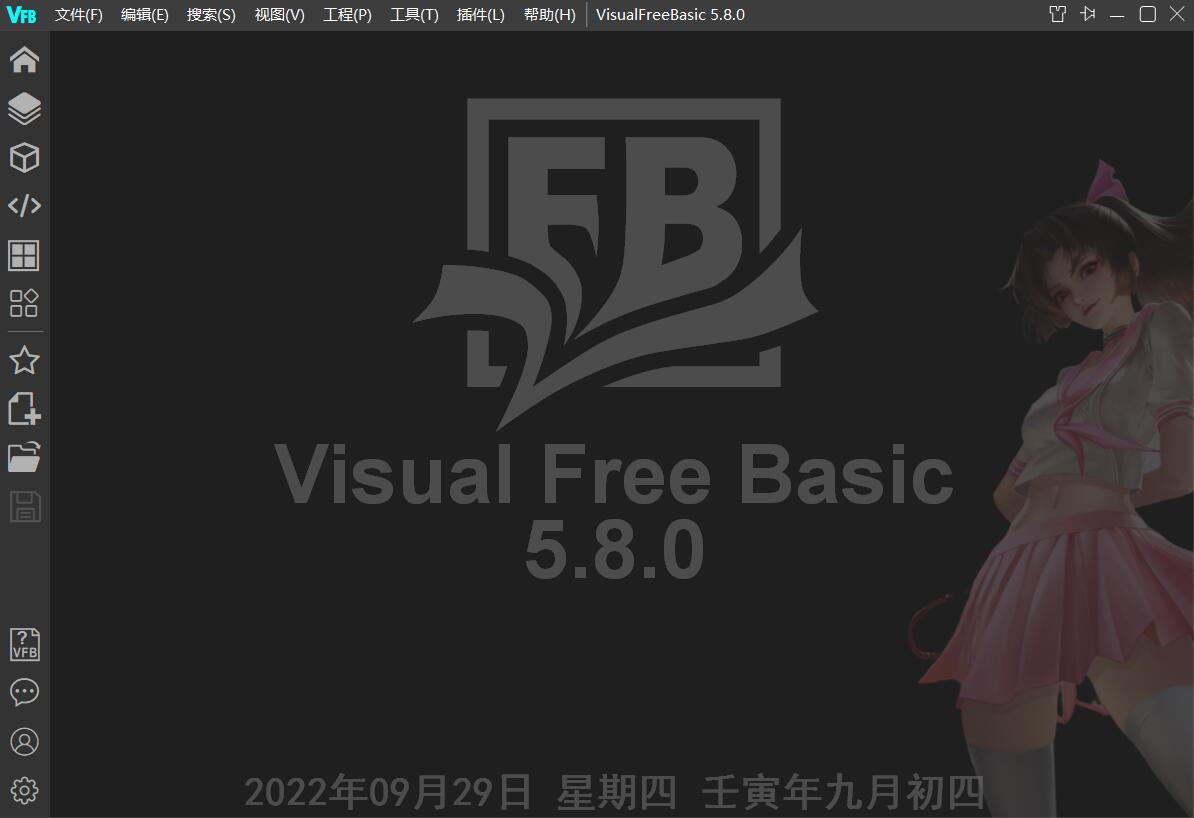 FreeBasic language integrated development environment similar to VisualBasic6. It has grammatical rules highly similar to VB6, has the same powerful functions as C language, supports object-oriented, and can develop 32-bit and 64-bit software, DLL, LIB libraries. It is the best advanced language of VisualBasic6.
     VisualFreeBasic combines the advantages of VisualBasic6's simple and easy to use, rapid development, strong C language support, and efficient code execution. It can meet the needs of novice and senior programming enthusiasts to write various types of application software quickly, efficiently, and with high quality .
     Are you still crazy about the limitations of VB6? Are you still struggling with the inefficiency of VB6 code execution? Are you still crazy about the cumbersome code of C language? Are you still struggling with the complicated process of C language? Then come to the warm family of VisualFreeBasic. A free, free and inclusive programming family may redefine your understanding of programming and change your future programming direction.
     Very green, very pure, do not need any runtime library, unzip to any folder, open and use, integrated IDE, compiler, help, function library, etc., all you do not need to worry about, all you do is write code, and then click The EXE is generated by pressing the compile button, and the generated EXE is also pure green. It does not require any support library and runtime library to run independently.
The project folder contains a large number of sample questions collected and organized by Yongfang Studio, as well as many sample questions written by Yongfang himself.
What can VisualFreeBasic5 do?
Production of 64-bit or 32-bit application software (.exe), dynamic library (.dll), static library (.a) for WINDOWS system
The produced software runs perfectly on WIN PE (micro system, U disk system), XP to WIN10 full range of operating systems
What is FreeBASIC?
FreeBASIC is a free / open source (GPL) BASIC compiler for Microsoft Windows, DOS and Linux.
FreeBASIC is a self-hosted compiler that uses the GNU binutils programming tool as the backend, and can generate console, graphics / GUI executable files, dynamic and static libraries. FreeBASIC fully supports the use of C libraries, and has partial C ++ library support. This allows programmers to use and create libraries in C and many other languages. It supports a C-style preprocessor, capable of handling multi-line macros, conditional compilation, and file inclusion.
Origin of VisualFreeBasic5
Since the birth of FreeBASIC for more than ten years, its IDE has been in the state of a code editor, and there is nothing automated. Except for experienced programming experts, novices ca n't start, and they ca n't know where to start. Until 2015, the FireFly software developed by "Canadian" PaulSquires" appeared, which greatly simplified FB programming, so that novices can also use FB to write software.
Although FireFly has brought great progress to FB's IDE, many are unsatisfactory and really difficult to use, so Yongfang began patching FireFly for more than 2 years at the end of 2016, because there is no source code, only Use DLL combined with plug-in technology to repair. Research FireFly has gradually accumulated a lot of experience in IDE.
It has been patched from FireFly 3.X and changed for more than 2 years. It has become very mature and named VisualFreeBasic 4.X. However, due to the lack of IDE source code, it cannot continue to improve and add better functions. At first, it took 5 months to write VFB5 with VFB4 (with experience and imitation, and a lot of code written for FireFly before, it was written in a short time, if there was nothing, because Yongfang wrote it by one person It is estimated that at least 1 year), a stable beta version is released, and VisualFreeBasic5 is born. Programming is endless, life is endless, improvement is not ceaseless, VisualFreeBasic will be getting better and better, to a higher level.
Many people will doubt? FireFly 3.X hasn't been updated after so many years? Yes, no update, because FireFly is developed with PowerBASIC, not FreeBASIC. Paul Squith wanted to use FreeBASIC to develop. Since 2017, he has developed a software called WinFBE, and it is open source, but the development efficiency is too low 3 years later, this software still looks semi-finished, and it is only suitable for experts to play, novices can not play at all, and it seriously deviates from the original FireFly way.
Main functions of VisualFreeBasic5
Visual editing windows and controls, providing various controls.
Organize windows and controls to generate code, including event handling.
Let FreeBasic support Chinese function names, Chinese variable names, and Chinese control names.
Provide a complete set of code prompts, auto-complete and code description prompts
Automatically organize resource files, icons, images, and any files can be added to the resource.
Built-in help, libraries, etc.
VisualFreeBasic5 workflow
Pre-process the code of the project file to generate a temporary code file
Call the FreeBasic compiler to compile temporary code files
Compile error occurs, automatically analyze the location of the code error in the project, and jump the error line.
In the output folder, in the temporary code file, the programming process of the full set of WIN SDK is all here. Open this code to clearly understand the core of WIN programming. VisualFreeBasic has undertaken a very tedious core operation, allowing users to focus on application-level development and easy programming. And the core code is all source code present, you can check for junk code, useless code, etc. at any time, so there is no need to worry about what should not be implanted by the author. If you feel that the core code is not good, you can also contact Yongfang Studio at any time to improve VisualFreeBasic together.
VisualFreeBasic5 is permanently free, unlimited, no advertising, no rogue, no implant, no pollution system, green and environmentally friendly, no installation, no deployment environment, decompression and use.