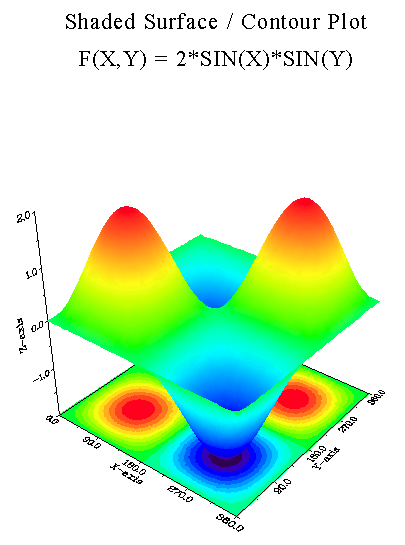 DISLIN
is a high-level plotting library developed by Helmut Michels at the
Max Planck Institute in Katlenburg-Lindau
, Germany. Helmut Michels currently works as a mathematician and Unix system manager at the computer center of the institute.
The DISLIN library contains routines and functions for displaying data as curves, bar graphs, pie charts, 3D-colour plots, surfaces, contours and maps. Several output formats are supported such as X11, VGA, PostScript, PDF, CGM, HPGL, SVG, PNG, BMP, PPM, GIF and TIFF.
DISLIN is available for most operating systems. This package makes it available for FreeBasic (the original dislin.bi file in the FB distro is outdated). The current version of DISLIN is 10.2 released in November 2011. The first version 1.0 was released in December 1986.
The DISLIN software is free for non-commercial use.
This package contains header files
dislin.bi
dislin_d.bi (double precision)
and some example files
3DBarGraph.bas
3DBars.bas
3DColourPlot.bas
BarGraphs.bas
ContourPlot.bas
curve.bas
InterpolationMethods.bas
MapPlot.bas
PieCharts.bas
PolarPlots.bas
ShadedContourPlot.bas
ShadedSurfaceContourPlot.bas
ShadedSurfacePlot.bas
ShadingPattern.bas
SomeSolids.bas
SpheresAndTubes.bas
SurfacePlot.bas
Symbols.bas
TexInstructionsMath.bas
Find the FB files here:
http://www.freebasic-portal.de/downloads/bibliotheken/dislin-anbindung-fuer-freebasic-213.html
To compile the examples or write your own code, you have to download
and install the library binaries for your system. For details see
http://www.mps.mpg.de/dislin/server.html